Framing Services Ottawa
At 2 Queens Home Services, we bring your dream home to life, together! Your home is where your most precious memories are made. That's why we're dedicated to helping Ottawa homeowners just like you design and create custom spaces to enjoy with your loved ones for years to come. 
House Framing: The Foundation of Your Dream Home
Before designing a more open floor plan, adding a new room, or installing cool features in your home, contractors install the framing (you've probably seen the wooden "see-through" structures before actual walls are built). Framing is like the skeleton structure inside your house, that supports everything!
It's key to have a professional framing company set up this vital first structure so the rest of your renovation project will have a solid footing and foundation. 
Ottawa Wood Framing Contractor
Framing is the backbone of any construction or renovation project, and it's where we excel. As your trusted framing contractor in Ottawa, we take pride in providing top-notch framing construction services. What exactly is framing? It's the structural skeleton that supports your home, ensuring it's sturdy, safe, and built to last. Our framing services create the foundation for your vision, giving your home the strength and stability to stand the test of time. All of our projects are always up-to-code, with proper inspections and licensing in place, to ensure your home's safety and structural integrity for many years.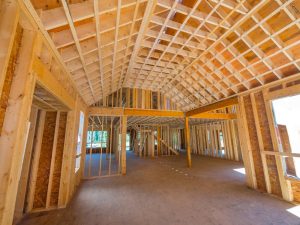 Why Choose Dennis and Team at 2 Queens Home Services?
We are a proudly Canadian, family-owned business. Dennis, the heart and soul behind 2 Queens Home Services, is not just a framing contractor; he's your trusted partner in transforming your home. With years of experience and a passion for quality construction craftsmanship, Dennis leads our team to deliver commercial and residential framing services that exceed expectations and are built to last. We prioritize precision, safety, and attention to detail in every project, big or small.
Inspiring Ideas for Framing Your Home
Thinking about how framing can elevate your own home renovation project in Ottawa? Here are a few inspiring ideas we like:
Open Concept Living: Let's knock down some walls and create an open, spacious living area that seamlessly combines the kitchen with your living room. An open concept is perfect for hosting, watching TV while cooking, or always keeping an eye on the kids while you're doing something! New custom wood framing allows for a flexible layout that suits your family's needs and easily reconfigures complex spaces into beautiful rooms that offer a breath of fresh air.
Custom Additions: Dreaming of a new bright sunroom or an extended kitchen with more storage and counter space? Professional framing construction makes it possible, seamlessly integrating your long-wanted new spaces with your existing home. 
Basement Transformation: Convert your unfinished or underutilized basement into a functional, stylish living space with proper framing, whether you want a family movie room or need a new home office away from the hustle and bustle of upstairs. Use up the extra square footage to your best benefit with a basement renovation.
Home Expansion: Planning for a growing family, need room for in-laws or just need more space for your own peace and quiet? Custom framing enables seamless room additions, so your home can grow with you and give your family the best life it can.
At 2 Queens Home Services, we're not just framing contractors; we're your renovation partners in turning your vision for your home into reality. Our custom construction framing services provide the foundation for your dream home for years to come. Contact us today to start your journey towards a stronger, more beautiful home in Ottawa.